THE CHAIR IS ONE OF THE OLDEST FORMS OF FURNITURE, WHICH HAS ALWAYS REPRESENTED INSPIRATION FOR THE ARTIST. ITS FUNCTION HAS NOT CHANGED SINCE ITS ORIGIN, BUT THE DESIGN HAS CHANGED WITH THE DEVELOPMENT OF TECHNOLOGY AND ARCHITECTURE. NOW ON THE MARKET, WE HAVE MANY DIFFERENT MODELS OF CHAIRS IN BOTH DESIGN AND QUALITY.
ALWAYS CHOOSE QUALITY OVER QUANTITY
Quality is often given up when choosing because of price. However, always keep in mind that quality pays off in the long run. Restaurants, bars and lobby areas are places with a high frequency of people and this should not be noticed on the chair for a long period of time. In addition to the construction, which should be made of high-quality wood, metal or good plastic when it comes to chairs without upholstery, care should be taken that the sponge is high-density for comfort and durability, but also non-flammable, which is very important due to the standards that these spaces must meet. Also, the upholstery should be tested for non-flammability and have a high resistance to wear.
RESTAURANTS, BARS AND LOBBY
SPACES ARE PLACES WITH A HIGH FREQUENCY OF PEOPLE AND THIS SHOULD NOT BE NOTICED ON THE CHAIR FOR A LONGER PERIOD OF TIME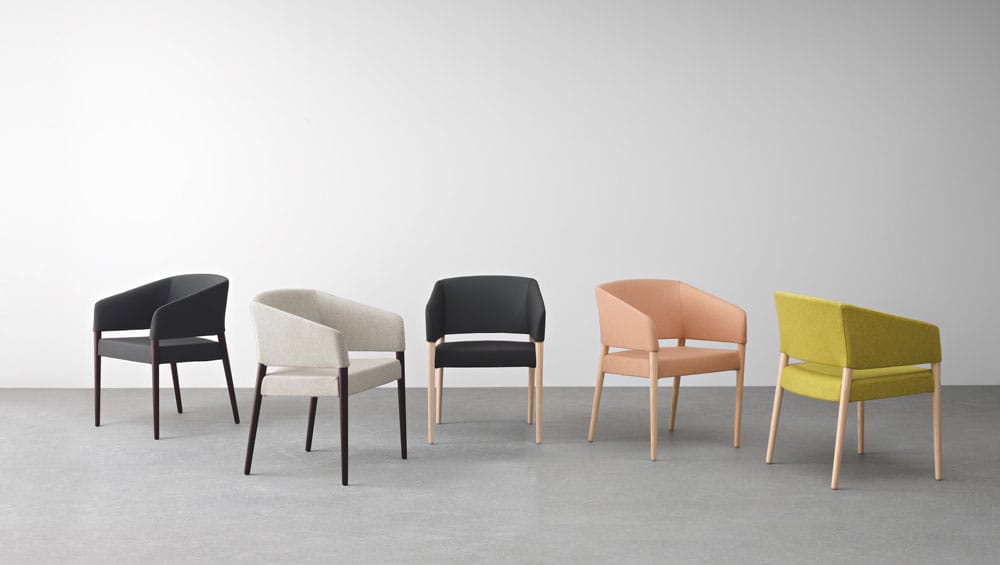 AT DR TRADE YOU CAN CHOOSE YOUR OWN, AUTHENTIC COMBINATION OF MATERIALS AND COLORS FOR MOST MODELS AND BE TRULY DIFFERENT
DR Trade suggests
According to the advice of the Dr Trade team, when furnishing the workplace, you should always pay the most attention to choosing a chair. What we propose in the next couple of photos, in addition to the indisputable Miller chairs, are chairs from quality manufacturers of ergonomic chairs, which are priced from medium-low to medium-high.
Let your choice be PLAY – DR Trade, Overtime – Luxy, Leaf – Sitland, Flow Emegi, Spirit – Sitland…
MODELS ARE A MATTER OF TASTE AND INTERIOR DESIGN ITSELF
It is always best to hire an architect or designer for the interior design of a restaurant or coffee bar. Dr Trade is a company made up of a team of professionals that you can turn to if you need that service. In our sales range, we offer not only chairs, which are the subject of this discussion, but also wall and floor coverings, as well as lighting. If it is a big expense for you to hire a professional for the creation of an interior project at Dr Trade, you will always come across free advice when choosing products from their assortment. Long-term experience, now 25 years, is a great guarantee that you can rely on these tips.
ONE OF THE TIPS OF THE DR TRADE TEAM
If you don't have an interior project and you don't have the courage to choose a combination of different models of chairs that will be found in the same space, and you have an idea that you saw in a magazine, on the Internet, etc., the advice of the Dr trade team is to use chairs from the same family (series ). For example, a palette of one shell combined with different bases designed for high or low seating can solve your problem. You will create a connection between the spaces, and the interior will not be boring. This system is especially good for smaller restaurants. Then comes a wide range of colours and materials that will complement the space and make it unique because in Dr Trade for most models you can choose your own, authentic combination and be different.
THE PSYCHOLOGY OF COLORS
Colour psychology explains the connection between colours and human psychology. Colours evoke emotions in people and it is very sensitive to find the right balance. Both for choosing a chair and for its colour, you need to know what you want to achieve with your catering space. How big is the space where the guests come? Do you want to have private parts? Do you want people to stay longer or shorter in your restaurant or coffee bar? Are the visitors younger, older, or a combination of different generations…
These are some of the basic characteristics of how certain colours affect people's behaviour in restaurants.
BLUE and PURPLE colours lead to a decrease in appetite. If you want to eat well in your restaurant, then reduce these shades to a minimum.
COLORS CAUSE EMOTIONS IN PEOPLE AND IT IS VERY SENSITIVE TO FIND THE RIGHT BALANCE
YELLOW is psychologically an irritating color. People tend to linger less in spaces where this color dominates
Some fast food restaurants deliberately have yellow interiors so that people stay only long enough to eat what they ordered as soon as possible. However, that colour in the right combination with other suitable colours has the complete opposite effect: transparency, sunshine in the space, positivity, light, joy…
GREEN is a relaxing color. People associate it with nature and feel comfortable and relaxed in restaurants where there are green colours. Using this colour is a good choice.
RED and ORANGE stimulate the appetite.
Everything in these colors is emphasized and noticed. People are attracted to these shades and feel warm in such spaces. Ne treba pretjerivati sa ovim bojama jer su takođe iritantne ukoliko su prenaglašene.